Death of Peter, Rt Hon Lord Temple-Morris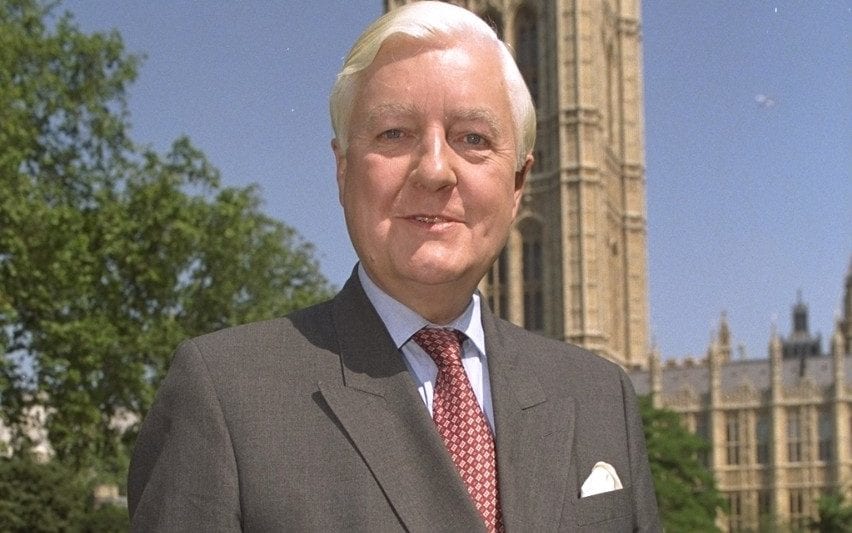 The article below was written by The Rt Hon Lord (Peter) Temple-Morris for the 2011 book 'What next for Labour?' which I edited. Peter passed away on 1st May 2018, and in his memory I have decided to publish his article today. My colleague, Hisham and I send out deepest condolences to Peter's family. I have fond memories of our conversations, and his impressive political and legal intellect.
Lord Temple-Morris was the Conservative then Labour MP for Leominster between 1974 and 2001. He was Chair of Cambridge University Conservatives Association in 1961 and was called to the Bar in 1962. He was a practising Barrister who became a Solicitor in 1989. He defected to the Labour Party from the Conservatives in 1998.
Progressive Politics by Rt Hon Lord Temple-Morris
Now is the time to seize the moment whilst in opposition and   get it right. On the one hand the Coalition has given us a clear field of fire on the centre left. If we take the opportunity there is a real prospect that we can become the UK's most powerful political party, the natural representative of the majority, and the natural party of government. On the other hand failure to modernise and equip ourselves for this task means an uncertain future as an opposition party and, on occasion, in government if we are lucky.
For me modernisation means taking full credit for our distinguished past but also using and adapting it to become the party of all the people and in all parts of the country. I say this coming from a Tory background; my father was a Tory MP and I served 23 years on the Conservative benches before taking the difficult decision to leave my party and cross the floor to Labour. My decision to become Labour was a very public choice and I have no regrets. Fighting ten general elections against Labour and the Liberals gives me a certain perspective and certainly qualification to comment.
My politics have never changed. I could be summed up as a 'One Nation Conservative with a social conscience' or equally as a social democratic member of the Labour Party. When I went up to Cambridge in 1958, the choice of political party for myself and many others was virtually automatic. We became Conservative because of background and aspiration. We all fancied ourselves on the left of the Tory Party which was all there was for us. There was no social democratic option available as we saw it and the Liberals were not a practical proposition. Looking back I would have been much happier on the centre left of politics from the outset but, for better or worse, I did not see Labour as a political home. The purpose of this piece is to help make Labour an attractive option for all; of whatever class, background, colour or creed.
The history and origin of the Labour Party is important, in that it came into being in the cause of an historically necessary class struggle. It became a movement to this end and made the major contribution towards the creation of a more balanced and civilised society. Part of our problem today is that the legacy of our distinguished history is still with us. It has left us short of being a national party in the complete sense of the word. We may be the party of the north; of Wales and Scotland; of the inner cities and the deprived; but we are not the natural party of the more prosperous and populated centre and south of England. This situation, so well identified by Giles Radice in his "Southern Discomfort" series, is at the very heart of Labour's problems for the future. Their solution provides the key to all of this.
To say that Labour has, on occasion, won the centre and south of England is the exception proving the rule. 1945 was the post- war cry for a new society and the Attlee Government did not let the country down. 1964 was a time of Tory decline, a mood for change and Labour's ability to present the right leader at the right time to the people. Harold Wilson in 1964 was at the height of his powers and represented the change that people wanted. This combination of mood and leadership quite overcame any historical baggage that Labour might have been potentially carrying in the centre and south of England. Similarly, in 1997 there was a seriously diminished and divided Tory Party contrasted with a quite outstanding Labour leader in Tony Blair. With or without the Iraq issue he remained the dominant force in British politics for ten years and delivered the centre and south sufficiently for three consecutive election victories. This we should learn from and be proud of.
The main lesson is to build on what we have done and consider what we are. Looking at it from the outside, the Labour Party does not quite seem to get enough credit for its considerable accomplishments. The foundation of our modern state occurred in the 1945-51 period yet seems taken for granted; the 1960s was a vital decade of social change certainly made easier by a centre- left   government.   The   achievements   of   the   Blair   period, constitutionally, electorally and socially are to be lauded and never denied; similarly the social spending of Gordon Brown, together with his international financial management at a time of   need   –   all   of   which   represent   considerable   Labour Governmental achievements. That is progress to be proud of and to be built upon. No blank sheets but rather a turning of the page. So where do we start? To my mind it has to be with the party itself. A party of all the people, astride the political middle ground but tilting it to the centre left. A modern party, both nationally and internationally, dedicated  to  fairness  and  equality  of opportunity. But, as we have recently proved, capable of good financial management which is essential to producing the wealth necessary to achieve social change and improvement. We have achieved much of this but more is needed.
My basic remedies may or may not be practical politics but they need to be discussed, as they have been in the past, but more than ever now. For me they are in the same bracket as Clause 4 and OMOV, both of which problems for Labour have been faced up to. In whole or in part, in recent years, the first basic question is our name itself. The name "Labour" brings together the strands of the Labour Movement. A combination of individuals, trade unions, other movements and intellectuals that was dedicated to representing and bettering the situation of the working classes. A necessary and worthy cause that, in the historical context, we have largely fulfilled, given that we must always continue to represent the less fortunate within the political system. However, our name comes from our past and doesn't best promote the cause of those who, as a whole, we need to represent in the future.
The country has steadily become more and more middle class. This very much applies in the centre and south of England. Perspectives change with circumstances as people have steadily left the heavy industrial and public sectors and emerged as white- collar or skilled workers. They tend to associate Labour with their or their parents' past. Their aspirations for the future make them liable to look elsewhere politically and we can't always rely on brilliant leaders to get us over this reality.
I come back to the name. Any change in this area will encounter resistance and the matter is complicated by the perambulations of the name 'Social Democrat' over recent years. That said I submit that those considering these matters should look at the possibility of the description 'Social Democratic and Labour Party of the United Kingdom'. This gains much and sacrifices little. It should also add the Northern Ireland SDLP to us as a worthy sister party which they are de facto in any event.
There is an added attraction here in that we could be entering a period where coalition governments are increasingly on the cards.
This name would be much more attractive to the middle ground generally and to the disillusioned Liberal Democrat voter in particular. In addition, there is a natural middle class inclination to like to think of itself as 'social democrat'. This was very evident when the SDP was formed in 1982 but a mood was not enough for a new party. It could however be of enormous advantage to us.
The next question is the continuation of this process in creating a modern party structure. This means the translation of the Labour Movement into a modern equivalent. The key here is to build upon and not to destroy the elements of the Labour Movement, and in particular the role of the trade unions is historic, vital and constructive. This must continue but not in a way that prevents us from becoming a modern 'one member one vote' party. It should not be beyond the wit of our review to find ways whereby the unions can work alongside us, perhaps by being affiliated in some way, but not wielding any sort of elective power. This would obviously not include the thousands of union members who would hopefully become full party members and vote in the same way as everyone else. I have no hesitation in saying that this change would do more good in those areas of the country where we have electoral difficulties than anything else. If we had the name as well we really would be going places.
Part of this reform is the way the leader of our party is elected. It should follow naturally that a 'one member one vote' party can do without the extra votes given to affiliated bodies and the unions. The third Electoral College should disappear. A proper balance of power can then be worked out between the Parliamentary Party and the party in the country. The constitution and membership of the National Executive Committee; the powers of conference; any role for a Chairman of the Labour Party; our overall constitution and anything else also relevant will also have to be reviewed as part of this. The outcome will hopefully be a modern and very electable Social Democratic and Labour Party.
The other half of the overall equation is policy. A modern party needs modern policies consistent with its beliefs. It is not my intent here to go into policy detail but merely add some general thoughts. Above all people need to know where we are going and what we stand for. To begin with we should not hesitate to stand for what we have always stood for and are known to stand for; a fair and just society which cares for the weak and gives an equal chance for all to shine. Dogma from wherever has to be out. Change consistent with our beliefs has to be encouraged and not least in the fields of health and education. Commerce and finance must be free to operate but do so responsibly. Very important here is for us to be European and internationalist in outlook so that we may be big enough to make a difference and not least in controlling the excesses of commerce, industry and banking.
The European Union has a vital role in all this as does our overall international role and good name in promoting the vital causes of climate change and international development. Much of this is very natural political territory for us, which it is certainly not for today's Conservative party.
I end where I began. Now is the time and we must seize the opportunity. By the next election we must be firmly and attractively in the centre but coming from the centre-left. We have to be ready to take on all-comers and not just win by default. There is a joker in the pack in that we could face some sort of pact or electoral arrangement between the coalition parties. A modern Social Democratic and Labour Party could beat the lot of them, together or apart. Let us do that!
(This article was first published in September 2011, in 'What next for Labour? Ideas for a new generation' co-edited by Tom Scholes-Fogg and Hisham Hamid' ISBN: 9781908570000)
Note: As Tom Scholes-Fogg (the owner of this site) is now a police officer, it needs to be added that the views in this article are those of Lord Temple-Morris. Thank you.